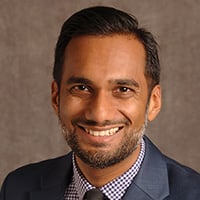 Ali M. Mattu, PhD
Specialties: Adolescent Psychology, Psychology, Child and Adolescent Psychology, Child and Adolescent Psychopharmacology
Specialties:
Adolescent Psychology, Psychology, Child and Adolescent Psychology, Child and Adolescent Psychopharmacology
Accepting new patients
"
About Ali M. Mattu, PhD
Dr. Ali Mattu is a licensed clinical psychologist and assistant professor in medical psychology at the Columbia University Irving Medical Center in New York City. He's a cognitive behavioral therapist who helps children, adolescents, and adults with anxiety and related disorders. Dr. Mattu specializes in the treatment of panic disorder, social anxiety disorder, generalized anxiety disorder, obsessive-compulsive disorder, phobias, hair-pulling disorder (trichotillomania), skin-picking disorder (excoriation), tic disorder, and Tourette syndrome.He received his B.A. from the University of California, Los Angeles where he majored in psychology and minored in Asian American studies. Dr. Matt...
Dr. Ali Mattu is a licensed clinical psychologist and assistant professor in medical psychology at the Columbia University Irving Medical Center in New York City. He's a cognitive behavioral therapist who helps children, adolescents, and adults with anxiety and related disorders. Dr. Mattu specializes in the treatment of panic disorder, social anxiety disorder, generalized anxiety disorder, obsessive-compulsive disorder, phobias, hair-pulling disorder (trichotillomania), skin-picking disorder (excoriation), tic disorder, and Tourette syndrome.He received his B.A. from the University of California, Los Angeles where he majored in psychology and minored in Asian American studies. Dr. Mattu received his Ph.D. in clinical psychology from The Catholic University of America in Washington, D.C. He completed a doctoral internship at the Bellevue Hospital Center and a post-doctoral fellowship at the NYU Langone Medical Center's Child Study Center.Dr. Mattu creates entertaining, empowering, and educational mental health media. Through his YouTube channel, The Psych Show, Dr. Mattu teaches a global audience how to use psychological science to achieve their goals. He has been interviewed by the New York Times, appeared on Buzzfeed, MTV, CBS, NBC, and PBS. He sparks conversations about mental health through storytelling performances, school assemblies, and pop culture conventions.Dr. Mattu presently serves on the Board of Directors of The Story Collider and creates curriculum for the Pop Culture Hero Coalition. He has served in a variety of leadership roles within the American Psychological Association including the Board of Directors, Council of Representatives, Council Leadership Team, Policy and Planning Board, Good Governance Project, and the American Psychological Association of Graduate Students.Dr. Mattu has been called a "forward thinker" in psychology. He was named one of The Mighty's mental health heroes of 2015. His work has been described as "simple, thoughtful, and actionable."
Hospital Affiliations
NewYork-Presbyterian / Columbia University Irving Medical Center

NewYork-Presbyterian Morgan Stanley Children's Hospital
Expertise
Adjustment Disorder

Adolescent Psychology

Anxiety

Child and Adolescent Psychology

Cognitive Behavior Therapy

Depression

Mental Health

Obsessive Compulsive Disorder (OCD)

Panic Disorder

Psychotherapy and Cancer

Relationship Problems

Social Anxiety Disorder

Stress Management

Tourette's Syndrome

Trichotillomania
Education
Medical School: Catholic University of America