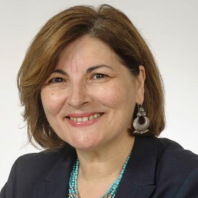 Antonia R Sepulveda, MD
Specialties: Anatomic Pathology
Specialties:
Anatomic Pathology
Accepting new patients
About Antonia R Sepulveda, MD
Antonia R. Sepulveda MD, PhD is Professor and Vice Chair for Translational Research and Director of the Division of Gastrointestinal Pathology at Columbia University Medical Center. She is an expert in gastrointestinal pathology and molecular diagnostic pathology of cancer. Her clinical practice provides specialized gastrointestinal, biliary and pancreas pathology diagnostic services with integration of molecular testing utilizing genomics, epigenomics and specific tumor biomarkers for personalized cancer management and precision medicine of digestive organ cancers and pre-cancer conditions (esophageal cancer and Barrett's esophagus, gastric, colorectal, pancreas and biliary cancers and p...
Antonia R. Sepulveda MD, PhD is Professor and Vice Chair for Translational Research and Director of the Division of Gastrointestinal Pathology at Columbia University Medical Center. She is an expert in gastrointestinal pathology and molecular diagnostic pathology of cancer. Her clinical practice provides specialized gastrointestinal, biliary and pancreas pathology diagnostic services with integration of molecular testing utilizing genomics, epigenomics and specific tumor biomarkers for personalized cancer management and precision medicine of digestive organ cancers and pre-cancer conditions (esophageal cancer and Barrett's esophagus, gastric, colorectal, pancreas and biliary cancers and pre-cancer risk lesions). Dr. Sepulveda leadership is nationally recognized. She has been the lead co-chair for the Molecular testing guidelines for colorectal cancer, a combined initiative of the American Society for Clinical Pathology, College of American Pathologists Pathology and Laboratory Quality Center, Association for Molecular Pathology and the American Society of Clinical Oncology. Dr. Sepulveda research is focused on an innovative integromics cancer research program exploring computationally generated networks integrating the molecular mechanisms and biomarkers of gastric and esophageal and pancreatic cancers and pre-cancer lesions. Through these cutting edge approaches Dr. Sepulveda hopes to define novel tumor types and regulatory pathways of cancer development and progression, and biomarkers for their diagnosis and therapy. Dr. Sepulveda has over 120 publications (original research, reviews, chapters and books). Email: as4400@cumc.columbia.edu
Hospital Affiliations
NewYork-Presbyterian / Columbia University Irving Medical Center
Expertise
Barrett's Esophagus

Bile Duct Cancer

Cancer of Gallbladder and Bile Ducts

Colon Cancer and Polyps

Colon Disorder

Colon Tumors

Colorectal Cancer

Disease of Colon

Esophageal Cancer

Esophageal Disorders

Family History of Colorectal Cancer

Family History of Gastric Cancer

Gastric Cancer

Gastric Neoplasms

Gastrointestinal Cancer

Gastrointestinal Disorders In Oncology

Gastrointestinal Malignancies

Gastrointestinal Pathology

Gastrointestinal Tumors

Molecular Biology

Molecular Cancer Testing

Molecular Diagnostics

Molecular Pathology

Pancreas Cancer

Pancreatic Cancer

Pancreatic Tumor

Pathology
Education
Internship: Hospital Civis Of Lisbon

Medical School: Universidade De Lisboa