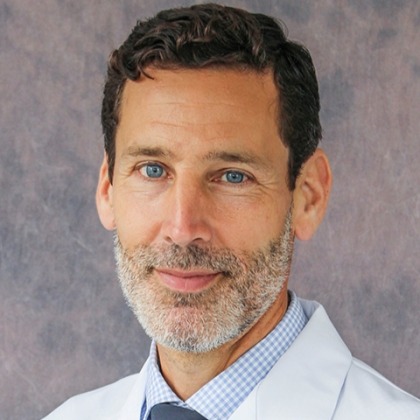 Brian G. DeRubertis, MD
"
About Brian G. DeRubertis, MD
My practice style takes into account the whole patient and attempts to fit the therapy to the patient's individual needs. Many patients with vascular disease have complex medical histories and need their treatment plan to match their other medical problems in addition to their vascular issues. In treating vascular disease, we are not only trying to extend life, but also attempting to maximize the quality of a patient's life. I believe this is generally best done through a multidisciplinary approach and with the use of both standard open surgical operations as well as cutting-edge minimally invasive techniques that are now available to treat a large number of vascular conditions. My practice involves extensive use of these minimally invasive endovascular therapies to correct vascular issues in a way that minimizes the physical impact and need for prolonged recovery periods.
Hospital Affiliations
NewYork-Presbyterian / Weill Cornell Medical Center
Expertise
Abdominal and Thoracoabdominal Aneurysms

Abdominal Aneurysm

Aneurysm of Splenic Artery

Angioplasty, Percutaneous Transluminal

Aortic Aneurysm

Aortic Disease

Aortic Dissection

Arterial Insufficiency

Arterial Stents

AVM (Arteriovenous Malformation)

Balloon Angioplasty of Artery

Carotid Artery Stenting

Carotid Endarterectomy

Claudication In Peripheral Vascular Disease

Diabetic Peripheral Vascular Disease

Diabetic Wound Care

Endograft Aneurysm Repair

Endovascular Aneurysm Repair

Endovascular Disease

Endovascular Surgery

Endovenous Laser Ablation

Fistulas For Dialysis

Iliac Aneurysm

Interventional Vascular

Intestinal Artery Bypass Surgery

Intestinal Artery Stent

Leg Bypass Surgery

Minimally Invasive Arterial Bypass

Minimally Invasive Arterial Reconstruction

Minimally Invasive Vascular Surgery

Peripheral Vascular Disease

Peripheral Vascular Disease With Claudication

Peripheral Vascular Surgery

Poor Leg Circulation

Popliteal Aneurysm Repair

Renovascular Disease

RFA (Radiofrequency Ablation) of Varicose Vein of Leg

Sclerotherapy, Varicose Vein

Thoracic Outlet Syndrome

Transcatherter Embolization

Varicose Veins

Vascular Complications of Diabetes

Vascular Disease, Peripheral
Education
Medical School: Cornell University Medical College