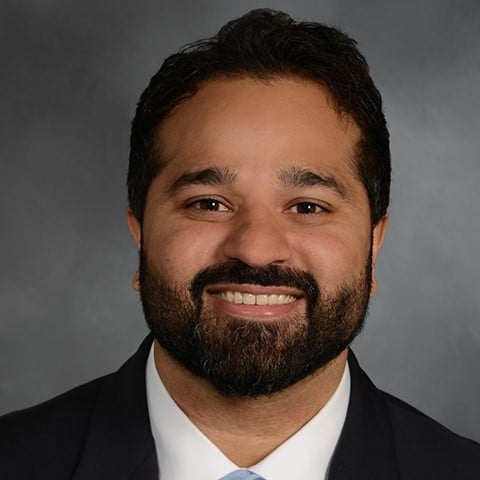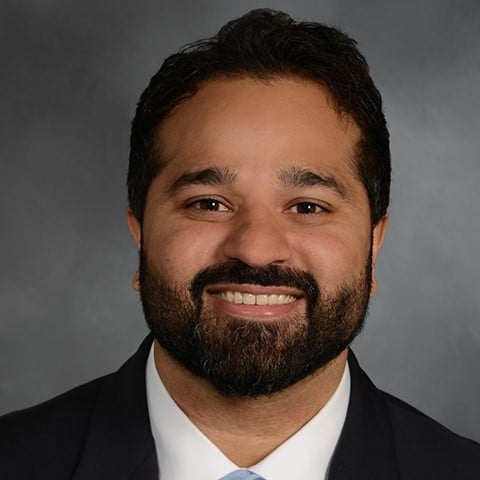 Ibrahim Hussain, M.D.
Neurological Surgery
Locations and Appointments
---
Center for Comprehensive Spine Care
US
Call to Schedule
New and Existing Patients
Book
an Appointment
Online
Call to Schedule
New and Existing Patients
Book
an Appointment
Online
Existing Patients
Login to Connect Patient Portal make an appointment, view documentation or contact your doctor's office.
Insurances Accepted
Please contact the doctor's office to verify that your insurance is accepted.
AETNA

Aetna - NYP

Empire Blue Cross/Blue Shield

Empire Blue Cross/Blue Shield Healthplus

GHI

Health Insurance Plan of NY (HIP)

Oxford Health Plans

United Healthcare
---
---
About Ibrahim Hussain, M.D.
Dr. Ibrahim Hussain is an accomplished neurosurgeon with advanced fellowship training in endoscopic, minimally invasive, and complex reconstructive spine surgery. He treats patients with the full spectrum of spinal disorders, including those with disc herniations, age-related degenerative arthritis, fractures, spinal cord injury, infections, primary and metastatic spinal cord tumors, congenital anomalies, and scoliosis. A significant portion of his practice is devoted to revision surgeries in those who have had prior spine surgery, and those with peripheral nerve problems such as tumors and compressive neuropathies. Having trained with pioneers of spine surgery at some of the top neurosurgical institutions in the world, Dr. Hussain uses and is involved in the development of state-of-the-art intraoperative technologies that aim to make surgeries safer and less invasive, including three-dimensional computer-assisted navigation, endoscopy, robotics, and augmented reality. He has special interest in performing outpatient and "awake" spine surgeries when appropriate for patients, which aim to get patients home faster and without the negative effects of general anesthesia.
Dr. Hussain strives to provide compassionate and comprehensive care to his patients and works with them and their families to provide the optimal solution to their medical problems, both inside and outside the operating room. Leveraging the internationally recognized faculty at Weill Cornell-NewYork Presbyterian, he works within a multi-specialist team that includes pain management doctors, neurologists, rehab doctors, physical therapists, oncologists, endocrinologists, and nutritionists to provide a safe, timely, and focused treatment plan custom-designed for each patient.
Dr. Hussain is also committed to advancing the field of spine surgery through other avenues. He is actively engaged in biomedical research (more below), and the surgical education and training of Weill Cornell Medical College students, residents, and international fellows. He has published more than 25 book chapters in neurosurgical textbooks used by trainees and surgeons around the world. Additionally, Dr. Hussain has partnered with a number of biotechnology companies, providing expertise for the innovation of next-generation molecular treatments and medical device engineering in spinal surgery.
Expertise
Acute Herniated Disc

Ankylosing Spondylitis

Arthrodesis

Artificial Disc Replacement

Back Pain

Benign Tumor of Spinal Cord

Bulging Disc

Carpal Tunnel Surgery

Cervical Disc Disease

Cervical Disc Herniation

Cervical Discectomy

Cervical Herniated Disc

Cervical Laminectomy

Cervical Spinal Cord Injury

Cervical Spinal Disorders

Cervical Spinal Fusion

Cervical Spinal Stenosis

Cervical Spine Disease

Cervical Spine Surgery

Cervical Spine Tumor

Cervical Spondylosis

Complex Spinal Surgery

Compression Fracture of C-Spine

Compression Fracture of Cervical Spine

Compression Fracture of Cervical Vertebra

Compression Fracture of Lumbar Vertebra

Compression Fracture of Spine

Computer Assisted Surgery

Congenital Kyphosis

Decompression of Spinal Cord Tumor

Deformity

Degenerative Arthritis of Cervical Spine

Degenerative Arthritis of Lumbar Spine

Degenerative Cervical Spinal Stenosis

Degenerative Disc Disease

Diffuse Idiopathic Skeletal Hyperostosis

Endoscopic Discectomy of Cervical Spine

Endoscopic Discectomy of Lumbar Spine

Endoscopic Discectomy of Spine

Endoscopic Laminectomy of Cervical Spine

Endoscopic Laminoforaminotomy of Lumbar Spine

Endoscopic Lumbar Microdiscectomy

Endoscopic Microdiscectomy of Cervical Spine

Endoscopic Microdiscectomy of Spine

Endoscopic Microdiscectomy of Thoracic Spine

Epidural Abscess (Embolic) of Spinal Cord

Excision, Neoplasm, Spinal Cord

Foot Drop

Foraminotomy

Global Health

Head Trauma

Herniated Cervical Intervertebral Disc

Herniated Disc

Herniated Disc Surgery

Herniated Intervertebral Disc

Herniated Intervertebral Disc of Lumbar Spine

Herniated Lumbar Disc Without Myelopathy

Herniated Lumbar Intervertebral Disc

Herniated Thoracic Intervertebral Disc

Herniated Vertebral Disc

History of Herniated Intervertebral Disc

Image Guided Neurosurgery

Intervertebral Disc Herniation

Kyphoplasty

Kyphoplasty at Multiple Levels

Kyphoplasty of Cervical Spine

Kyphoplasty of First Lumbar Vertebral Body

Kyphoplasty of L1 and L4 Vertebrae

Kyphoplasty of Lumbar Spine

Kyphoplasty of Lumbar Spine at 2 Levels

Kyphoplasty of Lumbar Spine at 3 Levels

Kyphoplasty of Lumbar Spine at 5 Levels

Kyphoplasty of Lumbar Spine at Single Level

Kyphoplasty of Lumbar Spine With Fluoroscopic Guidance, Single Level

Kyphoplasty of Lumbar Spine With Imaging Guidance

Kyphoplasty of Lumbar Spine With Imaging Guidance, Single Level

Kyphoplasty of Single Level

Kyphoplasty or Vertebroplasty

Kyphosis

Kyphosis Deformity of Spine

Laminectomy

Laminectomy and Fusion of Lumbar Spine With Instrumentation

Laminectomy and Microdiscectomy, Lumbar

Laminectomy and Microdiscectomy, Spine, Lumbar

Laminectomy and Microdiscectomy, Spine, Thoracic or Lumbar

Laminectomy at Multiple Levels

Laminectomy For Spinal Cord Tumor

Low Back and Neck Pain

Low Back Pain

Lower Back Pain

Lumbar Discectomy

Malignant Tumor of Spinal Cord

Microdiscectomy

Microdiscectomy, Spine, Cervical, Endoscopic

Microdiscectomy, Spine, Thoracic, Endoscopic

Minimally Invasive Foraminotomy of Cervical Spine

Minimally Invasive Procedures For Back/Neck Pain

Minimally Invasive Spine Surgery

Neck and Back Pain

Neuronal and Mixed Neuronal Glial Neoplasm of Spinal Cord

Osteotomy

Peripheral Nerve Surgery

Post-Laminectomy Kyphosis

Prolapsed Cervical Intervertebral Disc

Quadriplegia

Removal, Neoplasm, Spinal Cord

Repair of Herniated Intervertebral Disc

Sciatica

Scoliosis

Scoliosis (And Kyphoscoliosis), Idiopathic

Scoliosis Deformity of Spine

Scoliosis of Cervical Spine

Scoliosis of Cervicothoracic Spine

Scoliosis of Lumbar Spine

Scoliosis of Lumbosacral Spine

Scoliosis of Thoracic Spine

Scoliosis Surgery

Scoliosis, Congenital

Scoliosis, Radiation Induced

Scoliosis/Kyphoscoliosis

Spinal and Head Injuries

Spinal Arthrodesis

Spinal Arthrodesis and Decompression

Spinal Compression Fracture

Spinal Cord Injuries

Spinal Cord Injury

Spinal Cord Neoplasm

Spinal Cord Tumor

Spinal Fracture

Spinal Stenosis In Cervical Region

Spinal Stenosis of Cervical Region

Spinal Stenosis, Cervical Region

Spinal Tumors

Spinal Vascular Malformation

Spine Surgery

Surgical Correction of Scoliosis

Surgical Removal of Neoplasm of Spinal Cord

Upper and Middle Back Pain

Vertebroplasty
Education
Fellowship: University of Miami

Internship: Weill Cornell-New York Presbyterian Hospital

Medical School: Jersey Medical School

Residency: Memorial Sloan Kettering Cancer Center

Residency: Weill Cornell-New York Presbyterian Hospital
Titles & Positions
Assistant Attending Neurological Surgeon

Assistant Professor of Neurological Surgery
Hospital Affiliations
NewYork-Presbyterian Queens Hospital

Och Spine At NewYork-Presbyterian
Education
Medical School: Jersey Medical School

Residency: Weill Cornell-New York Presbyterian Hospital

Internship: Weill Cornell-New York Presbyterian Hospital

Residency: Memorial Sloan Kettering Cancer Center

Fellowship: University of Miami
Titles & Positions
Assistant Attending Neurological Surgeon

Assistant Professor of Neurological Surgery