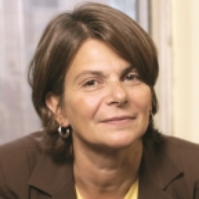 JoAnn Difede, PhD
Specialties: Psychology, Consult Psychiatry, Psychiatric Consultation
Specialties:
Psychology, Consult Psychiatry, Psychiatric Consultation
Accepting new patients
"
Insurances Accepted
Please contact the doctor's office to verify that your insurance is accepted.
AETNA

Medicare

Rockefeller University - CoreSource
---
About JoAnn Difede, PhD
JoAnn Difede, Ph.D., is a Professor of Psychology in Psychiatry at Weill Medicine, an Attending Psychologist at the New York Presbyterian Hospital, and Director of the Program for Anxiety and Traumatic Stress Studies (PATSS). She is internationally recognized for her pioneering work using virtual reality technology in the treatment of PTSD consequent to the WTC attack of September 11, 2001, and more recently in the treatment of combat-related PTSD. Dr. JoAnn Difede is currently serving as the lead PI of a large multi-site Department of Defense funded clinical trial contract entitled, "Enhancing Exposure Therapy for PTSD: Virtual Reality and Imaginal Exposure with a Cognitive Enhancer," w...
JoAnn Difede, Ph.D., is a Professor of Psychology in Psychiatry at Weill Medicine, an Attending Psychologist at the New York Presbyterian Hospital, and Director of the Program for Anxiety and Traumatic Stress Studies (PATSS). She is internationally recognized for her pioneering work using virtual reality technology in the treatment of PTSD consequent to the WTC attack of September 11, 2001, and more recently in the treatment of combat-related PTSD. Dr. JoAnn Difede is currently serving as the lead PI of a large multi-site Department of Defense funded clinical trial contract entitled, "Enhancing Exposure Therapy for PTSD: Virtual Reality and Imaginal Exposure with a Cognitive Enhancer," which is investigating how the use of virtual reality and the pharmacologic agent, D-Cycloserine, may help accelerate recovery from combat-related PTSD among U.S. service members deployed to Iraq and Afghanistan. Dr. Difede has served as the PI of several NIH-funded treatment studies concerning the development of innovative treatments for PTSD. She is also the recipient of many grants and corporate medical contracts for projects concerning the delivery of optimal care for trauma survivors and their families, both from private foundations and publicly held Fortune 500 corporations. Her treatment research spans survivors of burn injuries, terrorism, and occupations at-risk for PTSD, including U.S. soldiers deployed to OIF/OEF/OND, firefighters, police officers, and disaster rescue and recovery workers.Dr. Difede has advised many corporations, non-profit organizations, and governmental agencies in the U.S. and internationally regarding the implementation of best practices for the screening, evaluation, and treatment of trauma and PTSD. Dr. Difede has served on NIH special emphasis review panels on occupations at-risk for trauma and PTSD and CDMRP review panels, among others. She currently serves on the scientific advisory board of the Anxiety Disorders Association of America (ADAA) and the advisory board of the Jericho Project, a non-profit foundation serving homeless veterans. She recently completed a four-year term on the editorial advisory board of the Journal of Traumatic Stress.Dr. Difede received the 2010 Award for Outstanding Contributions to the Practice of Trauma Psychology from the American Psychological Association's Division of Trauma. In addition to her scholarly endeavors, her work has been featured in many popular media venues including the New Yorker, the NY Times, Newsweek, the Washington Post, Scientific American, and many television programs, including a recent appearance on Charlie Rose: The Brain Series' episode on PTSD, CNN, NBC, and ABC's World News Tonight with Peter Jennings. Notably, she was featured in New York magazine's Best Doctors issue in 2005 for her work developing a virtual reality-based treatment for WTC related-PTSD, and was profiled in The Lancet in September 2011, for the tenth anniversary of the WTC attacks, for her work developing innovative treatments for PTSD.To schedule appointments:Call (212) 821-0783
Hospital Affiliations
NewYork-Presbyterian / Weill Cornell Medical Center
Expertise
Anxiety

Behavioral Medicine

Consult Psychiatry

Depression

Mood Disorder

Phobia

Trauma

Virtual Reality Therapy

Women's Mental Health
Education
Medical School: New School for Social Research